Home / Available Dogs / Application / Success Stories / Contract / PVSTR Residents / Links / News / Email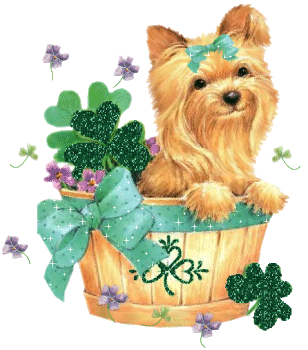 Happy St. Patrick's Day
Are you Irish? Are you part Irish? Are you Irish on St. Paddy's Day? Do you have an Irish setter? Are you going to visit Ireland? Do you have relatives in Ireland? No matter !! Pine Valley Shih Tzu Rescue would be so grateful if you'd throw some "green" into our "pot 'o' gold" and help it grow!

We adopted out 27 dogs in 2011 and financial constraints hinder us from helping other dogs in need. Our vets are wonderful and provide a huge discount, and they still need to be paid. Unfortunately, we can't pay them in four leaf clovers :( Remember - donations are TAX DEDUCTIBLE! We will send you a receipt !

We are hoping our wonderful friends, family, adopters, acquaintances, etc. will be generous and help us reach our goal of $500 by March 20. So Kiss the Blarney Stone, share with your friends and bring us a rainbow of donations!

Should you want to donate directly to the vet, please send a check to: Horsham Veterinary Hospital 971 Horsham Road Horsham PA 19044 To send a check to PVSTR directly: Pine Valley Shih Tzu Rescue, P.O. Box 52022, Philadelphia, Pa. 19115

WOOF!

Adoptable Pet of the Month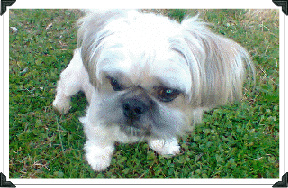 Franco
With the increase of people surrendering their pets, Pine Valley Shih Tzu Rescue also courtesy posts for private owners and other rescues. Our goal is the same, to get these wonderful animals a furever home. NOT ALL DOGS ON OUR WEB SITE ARE ACTUALLY BEING FOSTERED BY US.











Welcome to Pine Valley Shih Tzu Rescue

Established 1991 near historic Bucks County, Pa.

Pine Valley Shih Tzu Rescue is a 501(c)(3) non profit corporation

Pine Valley Shih Tzu Rescue is dedicated to
rescuing and re-homing Shih Tzu dogs and
other small breeds.

The mission of Pine Valley Shih Tzu Rescue is to find
good homes for dogs who have been abandoned.  

Dogs are rescued from shelters, puppy mills, and
any neglectful situation and are fostered until a
loving forever home is available.

Our goal is to place as many dogs as possible
into stable loving environments where they
will be cared for and never abandoned,
abused or neglected.

All dogs are temperament tested before adoption.
We hope to find forever homes for these loving dogs.

...........................

I am on the national committee and member of the ASTC for rescue.

...........................

Guardian Angels

Become a Guardian Angel to one of our dogs awaiting adoption.
Donations for medical needs, food, grooming are greatly needed.
Donations may be made in memory of a loved one.
Acknowledgements will be made next to the sponsored dog.


.................................

Visit 1800 Pet Meds Blog







Pine Valley Shih Tzu Rescue
P.O. Box 52022
Philadelphia, Pa. 19115

Belly Bands & Prissy Pants for Sale
All proceeds benefit PVSTR

For pricing or to place an order contact:





Home / Available Dogs / Application / Success Stories / Contract / PVSTR Residents / Links / News / Email
Copyright © 2012 Pine Valley Shih Tzu Rescue
Ad's are not necessarily supported by Pine Valley Shih Tzu Rescue